Get Top Cash For Used Cars Melbourne Wide – Free Used Car Removal
Why spend that much money to keep your old used automobiles in Melbourne? You could have sold it for thousands of dollars. So what spurs us on to accomplish it?
Melbourne Cash For Used Cars – Sell Your Used Car To Make Instant Cash!
Well, neither safety nor mileage is relevant here. But for some of us, bigger is better than an old adage. Due to the higher cost of maintaining it, more superior care equates to more cash for used cars Melbourne. Some used cars require tens of thousands of dollars in capital and monthly upkeep. So please sell that money hole to used car removal and have it picked up in less than a day.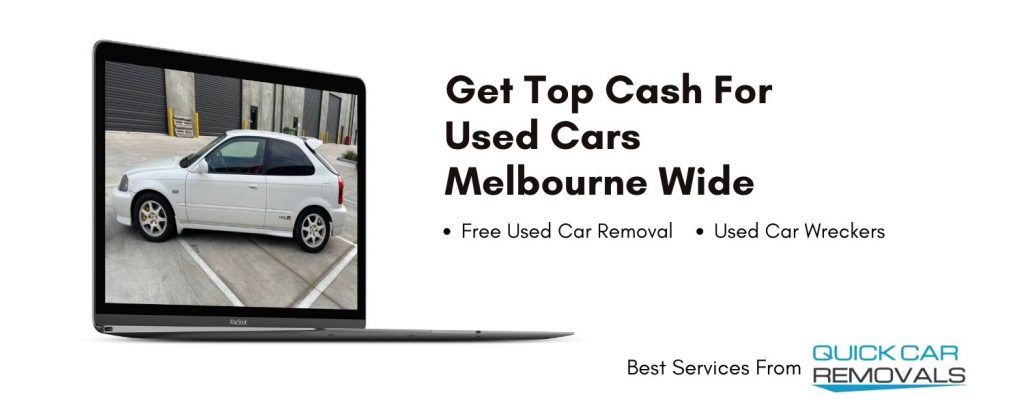 Service For Same Day Car Removal
Cash for Used Cars – Sell Your Unwanted Vehicle. We are Melbourne's Car Recyclers and provide competitive cash offers on all makes and models of vehicles.
By offering an Instant Cash service the same day they called us, we set out to relieve Melbourne car owners of the worry of used car removal Melbourne.
How Can Used Cars Be Sold in Melbourne?
Give us a call on 03 8712 3683, and we'll buy your used car now with the least amount of difficulty if you want to get rid of it but don't want to waste time taking people out for test drives or dealing with time wasters.
Who In Melbourne Buys Used Automobiles For The Highest Money?
You might be wondering, and you'd be right. It might be challenging to determine where and who will provide you with the most fantastic bargain when there are so many possibilities for selling your car, especially online. In the Melbourne metro area, Quick Car Removals Melbourne provides exceptional service!
Quick Car Removals, one of Melbourne's fastest-growing vehicle salvage and dismantle industries, is in Melbourne. We at Quick Car Removals have been in Melbourne's scrap and auto salvage business for many years, and we currently demolish over 700 automobiles on-site. Our salvage department also has a large selection of cars that are still repairable but have minor damage.
To Make Selling Simple And Quick, Adhere To These Three Steps:
Please contact us by phone at 03 8712 3683 or online using the form. We'll get in touch with you and ask for information like the car's make, model, and present state from our support desk representative. Before offering you a cash price, we'll examine and estimate your car. We offer sincere and trustworthy service.
We offer sincere and trustworthy service. For example, your unwanted, used car in Melbourne will get sold for the highest price possible thanks to our knowledgeable staff of used car removal. After I provide you with a quote, you can decide whether to accept it or not.
Schedule a time to have a used car removed.
We will take your vehicle as soon as you agree to our quotation offer and schedule our visit to your house. In addition, a skilled team in used automobile removal will show up at your location and handle everything. Additional automobile removal services are available from Quick Car Removals Melbourne and may get scheduled whenever you choose.
Profit from Cash For Used Cars.
We provide the $9,999 in cash for used autos while towing the vehicle. Your used car will be quickly hauled away by our skilled movers without harm. This procedure will get finished in a single day.
Feel Good About Removing Your Used Car
You can receive a competitive, hassle-free deal without leaving your home. Our on-site appraisers will pay you cash for your used car. So instead of making a trip to a used car lot, we now come to you with fast cash for used cars Melbourne! My used SUV, truck, van, or automobile can get sold now!
Customers can estimate the true worth of a used car thanks to our innovative nationwide used car buying system.
No part of your used car will contaminate the environment because our employees can recycle, repurpose, and resell all waste materials. Our stellar client testimonials have kept us among the top car removal companies for more than a decade. Additionally, we provide a variety of premium services at affordable rates.
Quick Car Removals Melbourne purchases vehicles from numerous automakers, including European, Japanese, Korean, and American brands, including Audi, Honda, BMW, Holden, Ford, Toyota and Volkswagen, among others.
Take away your used vehicle, and phone us at 03 8712 3683 to find out more.